Bleuette was a French child fashion doll who was the companion of little girls in France from 1905 to 1960.
Bleuette and her wardrobe were found in a girl's magazine, La Semaine de Suzette, or Suzette's Week, which was designed to help little girls become good wives and mothers.
La Semaine de Suzette contained stories, games, etiquette advice, recipes, and, most important, patterns for her wardrobe, for a period of over 55 years.
Elaine has reproduced this adorable Bleuette using photos of the antique as her guide.
For your Bleuette you will have the following choices:
Head Style - Styles to choose from: Bellette, Premiere and Gold
Body - Composition or Wood - jointed at the wrists, elbows, shoulder, top of leg and knee.
Glass Eyes - Blue or Brown
Wig - Human Hair (Mohair or Human Hair Ringlets style is additional), choice of colours as shown in wig chart below on this page.
Bleuette Undressed $155 (plus postage)
Includes:
Be sure to visit my LIttle Dolls page for companion dolls for Bleuette.
Choose from four head styles for your custom ordered Bleuette: Bellette, Cherie, Premiere and Gold
Bellette - Reproduction of the Jumeau 1907 model. On a composition body this head finishes up to 11.5", on the wooden body her size is 10 5/8" Choose from Jean Nordquist mold or Seeley (NY Doll) mold.
Premiere - Reproduction of a Jumeau 10 similar to the style used in the early Bleuettes. Premiere also is 10 5/8" on a wooden body.
Gold - Reproduction of SFBJ 60 Paris. Gold can be painted with top and bottom eyelashes, or just bottom eyelashes with mohair upper eyelashes. Both are authentic reproductions.
Bleuette Undressed $155 (plus postage)
Includes:

Crochet Outfit for Bleuette
DR028 A silky rayon cotton crochet dress with square collar, opens to the waist at the back with 4 buttons. Two ribbons through the waist tie at the back, just above the cluster patterned skirt. Underwear panties included. Available in antique white only
Shoes and socks sold separately. Dress & underwear $32.00. Doll not included in price.

Hankies for Bleuette
100% cotton handkerchief for Bleuette. Vintage reproductions downsized to Bleuette size, approximately 2.75" square. $3.00 each plus postage
Several styles to choose from.
1. Soldier & girl outside soldier's guard house
2. Little Boy Blue
3. Red and white duck edged
4. Clowns with balloons
5. Let's play house
6. Doll face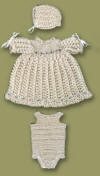 Crochet Outfit for Bleuette DR1012 Delicately crocheted in silk like rayon cotton, this set consists of three pieces. A full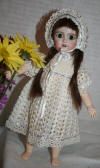 body suit back opening 2/3's of the way down with two little buttons. It is decorated with a ribbon threaded through the underarm area. The leg holes have ribbon threaded through which ties in a bow. The dress opens to the waist, at the back with two buttons. A decorative ribbon threaded through the bottom of the dress has hand embroidered roses all the way around. The ribbon threaded through the waist, ties in a bow at the back, and is also embroidered with roses. An adorable bonnet with ribbon rosettes on each side ties under the chin.

Fits Bleuette and a variety of 9-12" dolls. $35.00 plus postage
Hand Puppets for Bleuette - Porcelain Punch
& Judy style hand puppets. Felt costume. $15 each..$28/set
Marotte Sticks for Bleuette - Porcelain heads on sticks for Bleuette Choose from googly face or face with hat. Let me know any colour preferences you have for the ribbon decorations. $16 each
There are many websites offering information on Bleuettes, here are some that you might find useful
Bleu Door - Bleuette Pattern Library http://www.thebleudoor.com/BleuettePatternLibraryHome.index.htm
The Bleuette Sewing Club http://groups.yahoo.com/group/BleuetteSewingClub/
Vintage Bleuettes http://vintagebleuettes.com/
WIGS:
Human Hair: Mary Francis Available in:
Brown or Blonde

Braids (human hair or mohair)
Available in: Blonde or Auburn (shown)
Human Hair: Blunt Cut Available in Blonde
Human Hair: Hanna Long hair
Mohair: Dee

Available in: Honey Blonde (shown on Bellette), Drk Auburn, Drk Brown

Mohair: Gabrielle

Colours: Drk Auburn (shown on Bellette), Blonde, Lt Brown

Human Hair: Ringlets

Available in: Dk Brown, (shown on Bellette), Blonde, Lt Brown, Auburn, Black

Mohair: Justine -